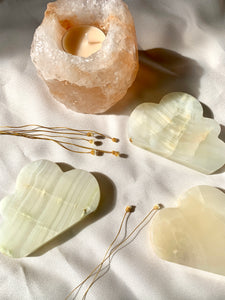 - Lunar Energy Connection
- Enhances Spiritual Vision & Dreaming
- Increases Psychic Capability
- Protects Against Anxiety & Fears
- Strengthen Mental Power and Focus

White Onyx reflects the color of purity, cleanliness and innocence. Light colored Onyx is thought to stimulate the higher chakras and helps enhance dreaming. To help facilitate a connection with lunar energies, rest this cloud on a nightstand, as white onyx associated is with sleep. Set an intention during bedtime to enhance spiritual dreaming while warding away nightmares and fears of the dark.

Add this beautiful moon to your Mediation Altar, Crystal Grids, Moon Rituals or anywhere in your sacred space. Perfect for home or office display or gift giving!

Clouds measure approx 4" x 3" 
**Crystals may vary slightly in color and size.