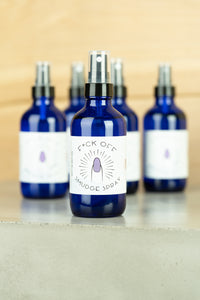 … Bad Vibes Be Gone!!!
This small batch spray, hand crafted by La Lune is light and not overwhelming, but don't let that fool you… it's simple and straight to the point. Using only 3 strong main ingredients: Sage, Cedar and Palo Santo.
Protective & Healing Properties: 

Sage attaches to negative energy and transforms the negative energy into positive energy

 Cedar attracts good spirits and eliminates negative energies

 Palo Santo energetically cleanses, clears and heals

Ingredients: 100% Pure Essential Oils (Sage, Cedar and Palo Santo), Distilled Water, Witch Hazel and a pinch of Pink Himalayan Salt
Crystal Properties:
Smokey Quartz- are an extraordinary strong amulet of protection. It will protect you from negativity and transmute the energy, by grounding it back down into the earth. It relieves tension and stress, anxiety, or panic attacks; also to ward off negative thinking, and to eliminate worry and doubt when faced with chaos or confusion.
All stones have been cleansed with Selenite and charged with Reiki Healing Energy
4 oz. 
Crystal Infused
Small Batch / Made in Brooklyn
How to use:
Shake very well before each use. (Tip: While shaking, set your intentions before you spray!)