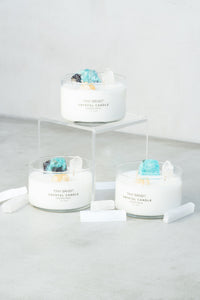 Alluring, beachy and bohemian. A seductive blend of warm coconut milk, sun kissed tanning oil, sacred palo santo, sandalwood, cardamom and amber resin.
Each luxurious Tiny Bandit candle starts with hand selected crystals, which are cleansed with pure Himalayan sea salt and then charged in the California sunshine. Soak up the good vibes while the infused crystals vibrate throughout your scared space, as you burn this candle over time.

When your candle if finished let the wax fully cool before removing crystals. Wash with soap and warm water, pat dry and use in Reiki | Chakra healing, meditation areas, blessing ceremonies etc. If you're not into all that woo woo stuff set them in the windowsill just because they look stunning. Like you!
9 oz. 
Crystal Infused

100% Natural Coconut Wax Blend

Perfume and Essential Oil Fragrance Blends

Natural cotton wicks + fully recyclable glass vessels and reusable packaging

Cruelty free, paraben, paraffin, sulfate, phthalate, gluten, and gmo free

Clean burning for over 50+ hours
Crystals:
Amazonite: Encourages confidence, strength and trust in your intuition. Helps to move beyond the fear of confrontation or judgment so you can freely pursue and express your true self.  Encourages artistic expression, truth, integrity and trust.

Citrine: Citrine crystal emulates the sun, offering optimism and light. Stimulates the brain, strengthening the intellect. Citrine promotes motivation, activates creativity and encourages self-expression. Enhances concentration and revitalizes the mind.

Clear Quartz:  Draws off negative energy. Encourages clarity of thought and increased energy levels. Elevates your vibration, positivity and purpose of heart and mind.
TIPS: Always burn candles until the wax pools to the edge of the glass. ESPECIALLY FOR THE FIRST BURN. Otherwise you will get what is called tunneling and that wastes all the wax stuck to the sides of the glass. Don't burn longer than 4 hours. Keep wicks trimmed to 1/4". If crystals fall onto wicks wait until wax cools and use a spoon to guide the crystal back to the side wall of the glass. When your candles is finished cleanse crystals and vessel with hot water and soap.